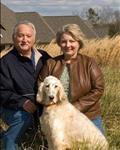 REALTOR®
Office: 770-720-1515 Fax: 770-573-3633
About Shelley Garland
Small Acreage and Estate Specialists
Shelley & Steve Garland have a winning attitude & strong work ethic. Since 2011, "The Garland Team" has put clients first; delivering personalized service with exceptional communication & loyalty…this is what motivates the Garland's and drives results for their clients.
Shelley has been a residential real estate agent since 2003. For 8 years, Shelley honed her real estate skills on one of the nation's strongest real estate teams. Prior, she worked with a Commercial Real Estate Investment Firm that managed multi-million dollar portfolios. Shelley's experience is very helpful when negotiating deals for clients.
Steve, also a licensed Light Commercial & Residential Builder, left a successful building career to join Shelley in 2006. His 30 year building career has proven to be tremendously helpful to our clients. Steve's warm, yet practical, problem solving skills often "seals the deal", by putting Buyer & Seller concerns at ease.
When selling your home, The Garland Team uses a multi-faceted marketing approach. Internet marketing, premier agent status, banner ads, zip code purchase as well as branded internet sites, and videography showcase homes for sale in all the right places. Team Garland also sponsors color ads in Unique Homes magazine, other strategic print media, and corporate sponsorships.
The Garland Team serves a wide area & has listed, marketed or sold properties in Bartow, Cherokee, Cobb, Forsyth, Fulton, Gwinnett, Jackson, Pickens, Paulding & Spalding Counties!