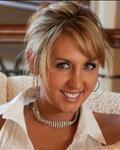 REALTOR®
Office: 706-433-0101 Mobile: 706-621-0940
About Sarah Barron
"Real People" Real Estate Community Professional
Born and raised in the Athens area and serving as an EMT since 2003 and Paramedic since 2010, I have grown to know and love the unique landscape and people throughout the communities that make up Greater Athens. As satisfying as it is to save lives, help deliver babies, comfort loved ones and answer the call when people need emergency assistance, transitioning from 24 hour emergency service to serving this same beautiful community as a real estate professional fulfills my high school graduation dream.
I've helped people through life's entire spectrum of transitions. Some families were growing with a newborn baby, while others were faced with making lifestyle changes due to accident or illness, and too many were coping with losing a loved one… I wouldn't trade my experience with these people for anything!
My experience with real families facing challenges at all stages of life give me a special connection to the adult community transitioning to more accommodating housing; young families buying their first home; and families making a move to accommodate three generation households. I also want to give back to my colleagues, the dedicated public safety, service and education professionals who sacrifice so much to make our greater Athens communities among the greatest in the nation.
Thankful for the relationships developed throughout my career and with my community, I am excited and it will be my honor to help you, your family and friends buy or sell your next home.